Q10.Many childbirth facilities advise women to use a spray seat after childbirth if they are experiencing discomfort in their private parts. Could you please explain how it should be correctly used?
Proper use of a spray seat is imperative, especially for women who have injuries or incisional wounds in the vagina or other delicate parts.

Childbirth facilities used to provide 'a cleansing bottle' after delivery to wash the private parts. Rinsing women's private parts gently with lukewarm water is a long-established cleansing method in nursing care as well as postnatal care. First, the dried lochia* sticking to the perineum, the area between the vagina and anus, is rinsed. Then the area is wiped with wet gauze or a wet hand towel. Using a cleansing bottle for rinsing allows the dried lochia to soften and loosen with moisture, thereby reducing skin irritation and promote efficient cleansing. Tap water may be used for this purpose.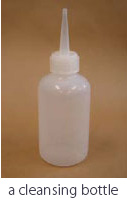 The use of the spray seat, which makes washing one's private parts easy, has become widespread in Japan. As a result, an increasing number of childbirth facilities no longer provide cleansing bottles. However, I am afraid that basic knowledge on the correct way to wash and cleanse has not been spread to spray seat users. It is apparent that there is not sufficient explanation given in this regards.
Sometimes I receive inquiries from users that have experienced soreness from washing their private parts. Compared to the cleansing bottle, the spray seat sprays a slightly stronger stream of water. There have been some users who have somehow sprayed their injured private parts, thus causing pain. It is natural to try to cleanse thoroughly, especially when told to keep an episiotomy wound clean for faster healing. However, water pressure that is too strong will worsen the inflammation of the wounded area and delay healing.
Although improvements will be made in future devices, only partial cleansing can be accomplished by using only the flow of water and without the use of hands. I highly recommend that spray seat users rinse the surface of the perineum with a gentle stream of water, then wipe any remaining vaginal discharge with toilet paper. When a woman's private parts are too swollen to clean after delivery, she should ask for assistance from the staff of the childbirth facility to cleanse her private parts only after a bowel movement.
(Note) "Lochia":
Lochia is vaginal discharge containing blood, discharged for several weeks after childbirth when the uterus and the vagina recover to their pre-pregnancy state. It is first vivid red in color and turns brownish over time because of the thinner blood component.