01

Spray seat

A function that we would like you to try by all means is the spray seat installed on the toilet. (It may not be installed in some facilities.)
The spray seat has a seat warming function and a warm water spray function to clean the local area.
Additionally, it has a timer to conserve electricity and a learning function to discover at what times the toilet is used the least to automatically lower the temperature during those times and for further electricity savings, it will instantly warm the toilet seat and warm the
water only at times when used. There are some that have a sensor to detect people and will automatically open and close the toilet cover and automatically flush the toilet.
Arm Attachment Type

Remote Control Type
Penetration Rate in Japan: 80.4% (As of March 2019)
The household penetration rate is increasing yearly reaching about 80% according to survey results by the Cabinet Office, which is a higher rate than personal computers.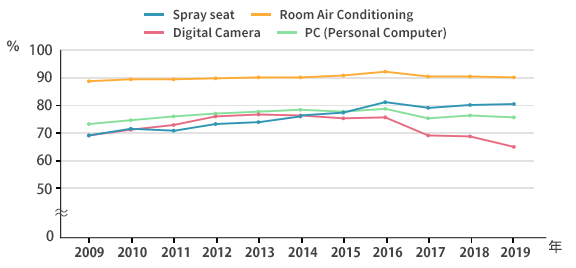 Spray seat Questionnaire
(America, U.K., Singapore, 300 people. Carried out in April 2015)
Their opinions after using are as follows.
Comments
Graph