about JSEIA
The Japan Sanitary Equipment Industry Association is.
The Japan Sanitary Equipment Industry Association is composed of 8 companies engaged in the production and sales of toilets, spray seats, wash rooms, and other such facilities and equipment involving water.
The Japan Sanitary Equipment Industry Association through continued development of restroom industry contributes to the betterment of the culture of everyday life all over the world.
Vision
The industry by continuing to grow and by continuing to provide high quality, safe and secure products, we will build even better favorable relationships with customers.
Philosophy
Through continued development of the restroom industry, contribute to the culture of everyday life of people around the world.
Vision
We will provide people around the world a safe and easy to use, environmentally friendly, and comfortable restroom space.
To accomplish this,

1. Further improve the safety of products and spread their proper use.
2. As a start towards solving environmental problems, strive to manufacture earth friendly products.
3. Push for international standardization, work towards further proliferation overseas.
About the Spray Seat
Spray seat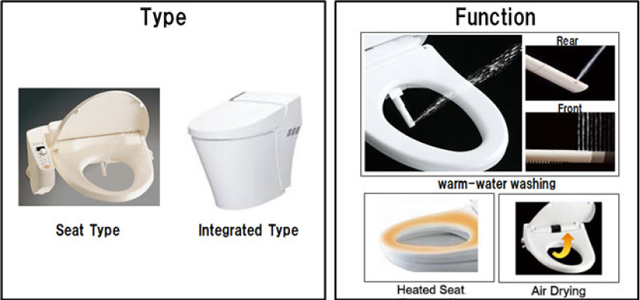 The spray seat is a product that has a warm water cleaning function for the locality, a drying function, and a seat warming heating function. There is a seat type for installation on a conventional toilet and also an integrated type. From its initial introduction to the Japanese market as a Japanese product in 1967, it has steadily proliferated along with the cleanliness orientation of the Japanese and the advancing age of the population, and is seen as a friendly product for the elderly. The penetration rate of spray seats in Japan exceeded 80% as of March 2016. *1 and has been installed in public facilities such as hotels, airports, and train stations and now even in airplanes. On the other hand, the penetration rate is still low in countries other than Japan and proliferation is expected in the future. "The Spray seat" is also sometimes called a "Bidet toilet" among other names.
*1: Cabinet Office Consumption survey.The figure shows the penetration rate in two-or-more person households in Japan.
The proliferation of Spray Seats (In Japan)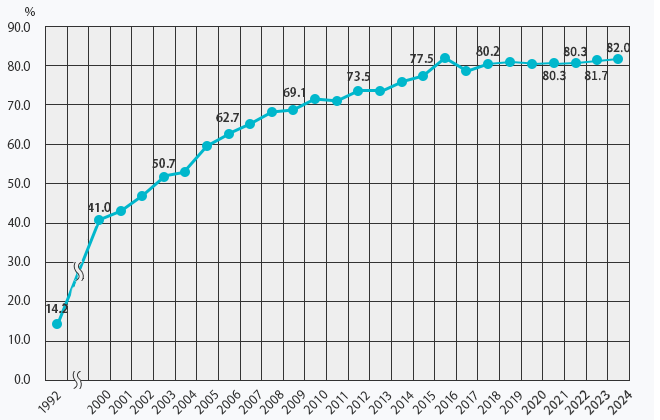 *2: From the Cabinet Office Consumption Survey (Yearly March survey)