Carbon Neutrality Action Plan
Carbon Neutrality Action Plan for sanitary facility equipment production
In recognizing the mission and roles that were imposed upon our industrial association, we will further contribute to improving the lifestyle culture of people all over the world through sustainable development of the restroom industry with the collaboration of the concerning ministries and related organizations, including all of the member companies. We sincerely ask for your further support and cooperation.
Carbon Neutrality Action Plan FY2020 Results Report(PDF)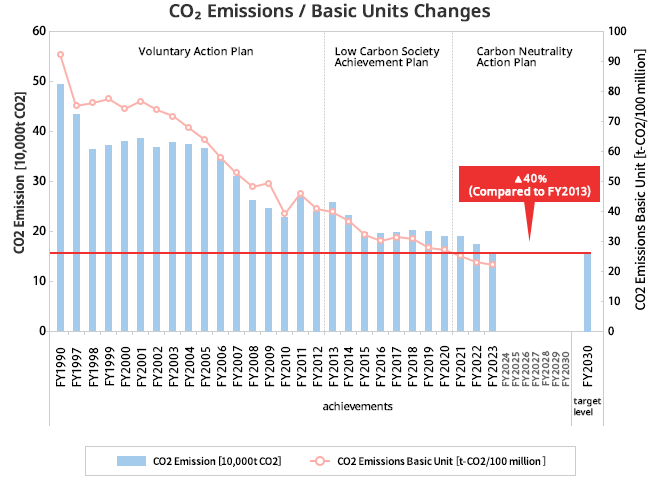 Fiscal year is from April of the year to March of the following year.
Carbon Neutrality Action Plan Activities
*The title of this plan has changed from "Low carbonSociety Plan" to "Carbon Neutrality Action Plan"
FY2001
Participated in the 4th Keidanren Voluntary Plan Follow-up* of Japan Economic Organization Federation as the former Nippon Sanitary Equipment Manufacturers Association, "Reduce CO2 emissions from production plants in FY2010 by 20% or more compared to FY1990 levels"
*Started with 28 industries in 1997 Industry Divisions and Energy Conversion Divisions
FY2005
Participated in the Ministry of Economy, Trade and Industry efforts to counter global warming
FY2007
Target value increased
"Reduce the average value for the volume of CO2 emissions of five years from FY2008 to FY2012 (first restriction period of the Kyoto Protocol) in production plants by 25% or more compared to FY1990 levels"
FY2010
Requested Carbon Neutrality Action Plan (Phase I) following Voluntary Action Plan of the Keidanren
"Reduce CO2 emissions generated at production bases in FY2020 by 35% or more compared to FY1990 levels."
FY2013
End report for the first commitment period designated in the Kyoto Protocol, target of voluntary achievement plan achieved
> Average value of results for FY2008 to FY2012 -50.3% (compared to FY1990)
FY2014
Reported the reduction target for the Carbon Neutrality Action Plan (Phase II) for after FY2020 to the Keidanren Environment Headquarters
FY2018
Reviewed CO₂ reduction target of both FY2020 and FY2030 in FY2017 and announced the target officially
FY2021
Reached the target of FY 2020, Low Carbon Society Achievement Plan (Phase I)
〉CO₂ emissions from production bases in FY2020 : reduction of 63.3% (compared to FY 1990)